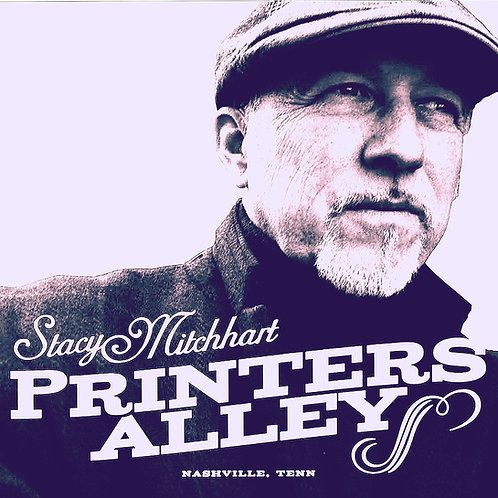 Printer's Alley 
The New Album by Stacy Mitchhart 
by Raul Watson 
When Hank Garland was burning up the Nashville studios with his guitar virtuosity, the producers were unsettled by his frequent visits to those seedier clubs up on Printer's Alley. 
Fast forward almost three quarters of a century and the jazz and blues coming from up the hill has the reputation as the more cultured part of the Honky Tonk district. And it was another guitar hero that sparked the transformation. 
Twenty five years ago Stacy Mitchhart, who was leading a strong blues band in Cincinnati, came to Nashville for a short residency at Bourbon Street Blues and Boogie Bar at the corner of Printer's and Banker's Alley downtown. The fans he encountered, both local and tourists, have not let him go home since. He has been playing three to five nights a week, pretty much fifty weeks a year, pretty much since the club opened. 
While most of this is credited to Stacy's exceptional mastery of the blues guitar and charismatic stage presence, it doesn't hurt that he has perhaps the tightest rhythm and blues ensemble in Music City. Add to that the broad swath through musical genres he claims, swerving between Delta blues, Motown, Chigago Style R&B, Philadelphia Soul back to that Memphis sound. Then he gets out the cigar box and goes rootsy. It's absolutely a raucus and crowd-pleasing spectacle every night Stacy and the band are onstage. 
Stacy has released a dozen or so albums over the past few decades. Each a work of art in its own right, this is the first time he's tried to compile one like he would a nightly set list. Diverse, destroying the walls between styles, demanding your attention and daring you not to dance. Even if it is in your seat. He explains on the track "SHAKE" 
When you come to my show 
I'm going to give it all you 
Little Rock n Roll and a little old school Blues 
A couple of sexy Ballads 
And some Second Line too 
I'm going to hit you with some funk that'll make your body move 
I asked Stacy to tell me a little about his band. 
"On drums is Darin James from Memphis Tennessee. He has been the driving force and energy behind our music for twenty-two years. A true master. 
"Michael Dearing, from Nashville, is a solid, dependable bass player and a great vocalist. A total professional. 
"Cory Distefano, from New Orleans, is a double threat on trumpet and keyboards. A stabilizing force in the band. 
"And of course, Jules Calderara truly shines on sax every show. He's from Houma Louisiana. He's extremely talented and dedicated to his craft." 
The album kicks off with a burst of bravado declaring, "The Only Thing Missing" is Me. It's an upbeat, jumpy little number, with great horn lines and a swift groove. You know right away he and the band are going to deliver with confidence and urgency. 
Then, without losing momentum, Stacy shines off his funky way of blues riffing with "She Knows What to Do." "Homewrecker" keeps the shoes shuffling, while reminding us this is a blues band and the themes are full of heartbreak, misery and people up to no good. 
Then comes "Something So Wrong." A wonderfully creamy arrangement and he's almost crooning. Like "You Turn Me On" and "Might Be Your Husband" and the slippery and slidey "What I Feel," sweet and soulful is definitely in their wheelhouse. 
But they never let you forget they are a blues band. From the slow and sultry "Brand New Same Old Blues" to the sexy and sad "Why Didi She Have to Leave" to the classic, old school "Worried Mind Blues" the band establishes their dominance in the field. And they put it right in your face with a dirty and rootsy overtone on "Doghouse Blues" and "Live My Life." 
Ending the compilation is a juicy reminder that the name of the bar is Bourbon Street and the fare and flair is Cajun. "Basin Street Blues" has all the glitter and glow of New Orleans with a wonderful vocal and scat appearance by the late, great Malachi. When Stacy migrated to Nashville, he brought with him a rhythm section he had recruited from the stable of the legendary H-Bomb Ferguson. Malachi was a drummer of much renown.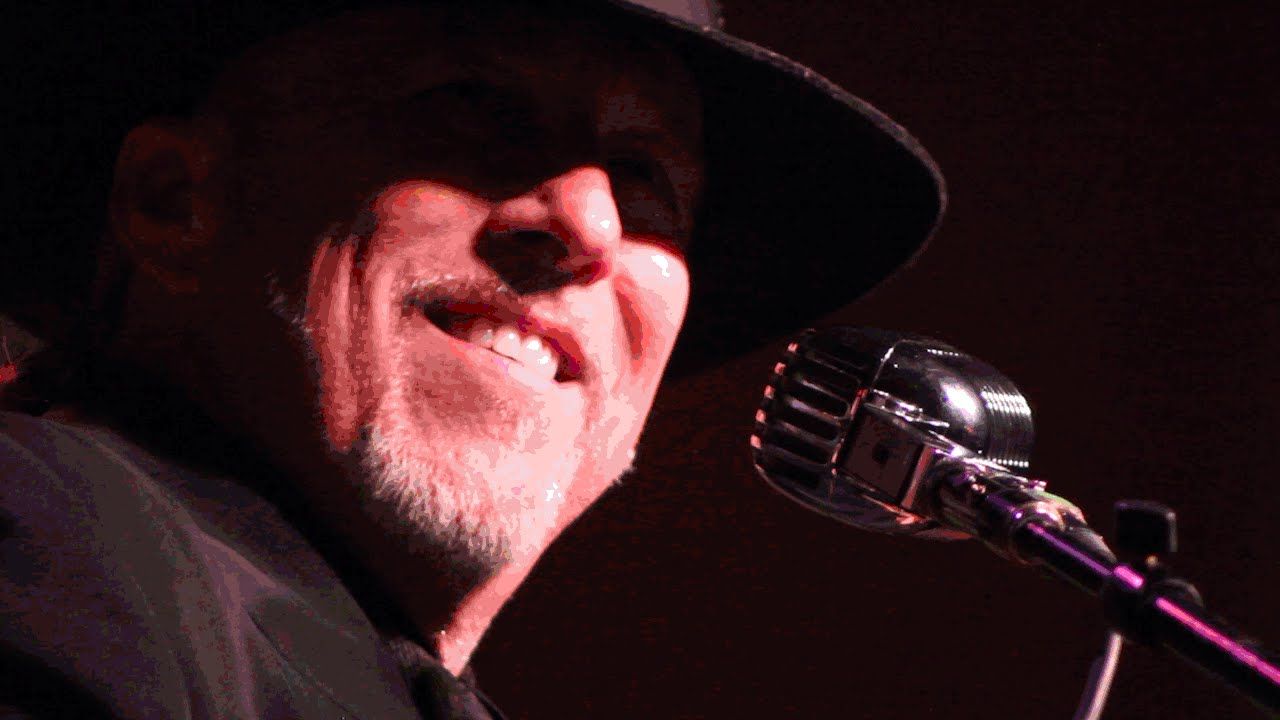 As soon as Stacy walks on stage, he has the full attention of the room. Not a lot of people chatting or checking their phones at the Boogie Bar. Add to that, his amazing band and a set list that never settles into one rut, and his crowd always remembers. 
I was in the alley after an early Lauren Anderson show, talking to a guy with a thick Australian accent. I told him I hope he sticks around for the next show for Stacy's band. He pointed to the upper windows across the alley. 
"I come here every year and stay right there just to see this band," he told me. 
I asked Stacy in an interview a few years back why he didn't tour. He said everyone comes to Nashville at some point. It's like touring, but you get to sleep in your own bed at night. 
But Nashville does generate some travel in his life. Festival promoters from California to The United Kingdom have seen and recruited him during their visits. And with the growing number of people having small concerts in their homes has come a demand for his solo performance. 
"House Concerts allow me to connect with my audience in the most intimate and organic way," he explains. "It's so natural. The way music should be."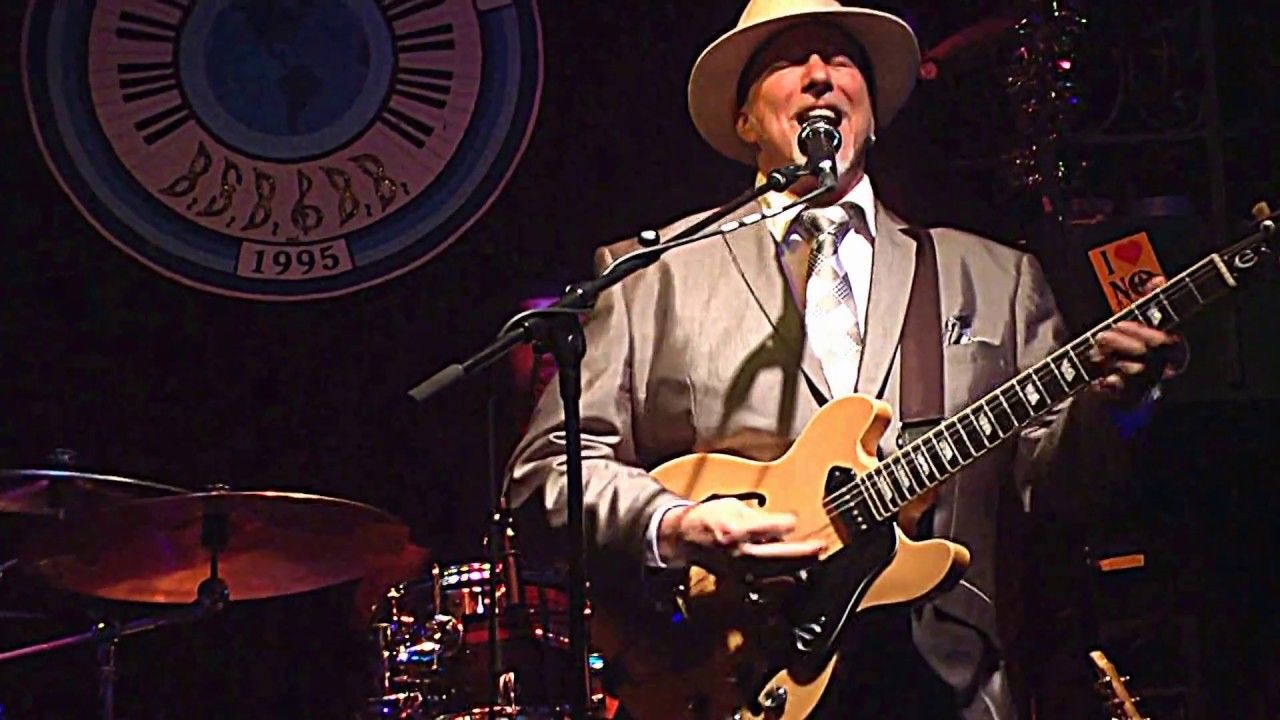 Come to Bourbon Street Blues and Boogie Bar next time you're in Nashville, and you'll see live music as it should be.